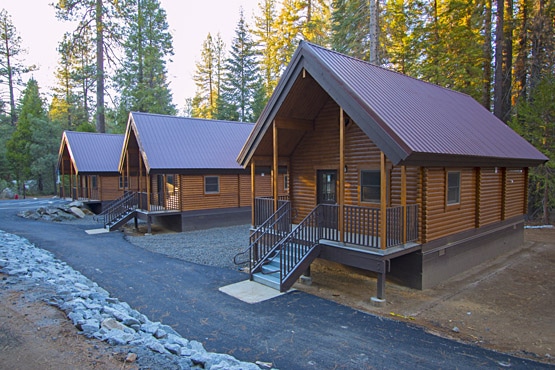 Camp Chawanakee Cabin Project
Conestoga met John Richers, CEO/Scout Executive of the BSA Sequoia Council, at the National Annual Meeting in 2011.  Conversations continued after the initial meeting and plans were eventually put in place to build Conestoga cabins at Camp Chawanakee.  You will not find a more scenic location than Camp Chawanakee. It resides on a large mountain lake at about 7000 foot elevation, glaciers visible year-round. The surrounding lodgepole pine trees and the sequoia trees are 200' to 300' high.
After over a year of working through permit requirements and tweaking the designs to meet California building codes, the cabins were delivered. The order consisted of several 14′ x 20′ lodges, several 17′ X 31′ cabins (some ADA compliant), and a 20′ X 42′ Trap Pond office style cabin. Conestoga's team was present when the delivery trucks arrived and worked with the general contractor that Camp Chawanakee hired.
The building of the cabins officially started in May.  The cabins were completely assembled and stained by mid-July. Camp personnel, the general contractor, and a Conestoga team member worked together to coordinate assembly.  They met on Fridays, to have 4-6 hours of work prepared for the scouts to complete on Saturdays.  The scouts actually participated in the assembly of the cabins. The entire project was a great success for everyone involved.